Angry Orchard Easy Apple is a refreshing and easy-to-drink hard cider. It is unfiltered with an apple-forward taste, slightly hazy appearance and a refreshingly dry finish. It never weighs you down, making it the perfect drink choice for those long, relaxing days.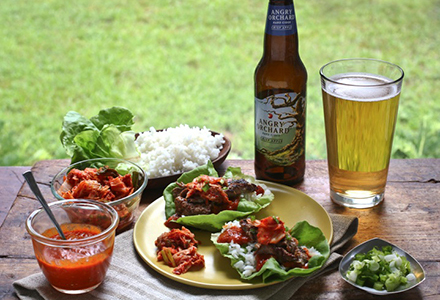 ANGRY ORCHARD CRISP APPLE HARD CIDER BULGOGI LETTUCE WRAPS
Using Angry Orchard Crisp Apple in the marinade adds layers of flavors and contrasting sweet and tart notes, and the slight acidity of the cider helps to tenderize the meat. The sweet apple flavors complement the savory notes of the marinade.
Makes 8 Servings
Ingredients (marinade):
½ cup Angry Orchard Crisp Apple
1lb thinly sliced beef ribeye
1 small onion, baseball sized, pureed
4 cloves of minced garlic
2 Teaspoons minced ginger
2 Each green onions sliced thin
2 Tablespoons soy sauce
2 Tablespoons dark brown sugar
1 Teaspoon finely ground black pepper
1 Tablespoon roasted sesame oil
Ingredients (sauce):
2 Teaspoons Angry Orchard Crisp Apple
1/4 Cup kochujang (red pepper paste)
1/3 Cup daenjang (soybean paste)
7 cloves of minced garlic
½ Cup minced sweet onion
1 Each jalapeno pepper minced
2 Tablespoons rice wine
1 Tablespoon rice syrup
1 Tablespoon roasted sesame oil
Ingredients (shell and filling):
8 fresh butter lettuce leaves
Steamed rice
Thinly sliced green onions
Kimchi
Sliced raw garlic
Directions:
Combine all ingredients for marinade in a large zip loc freezer bag.
Work marinade into meat and coat evenly. Squeeze air from the bag and seal. 3. Place bag in refrigerator for 24 hours.
To prepare the sauce, place all ingredients except the cider in a food processor. Pulse together into a smooth paste.
Add the cider and pulse to combine. Remove from bowl and reserve. (The sauce can be made up to 3 days in advance).
Remove meat from marinade and warm to room temperature.
Heat a large cast iron pan on the grill over high heat (can also be done inside on a stove).
Once pan is very hot, add the meat and spread it out to create one even layer in the pan.
Turn the heat off from the pan and allow meat to sear on one side while steaming on the top. After approximately 2 minutes, cook meat on other side for a total cooking time of only 3-4 minutes.
Remove meat to a platter. Assemble the wraps by taking 1 leaf of butter lettuce, spooning a small dollop of sauce on the leaf and topping it with approximately 2oz. of meat.
Customize wraps with the addition of cooked rice, raw garlic, sliced green onions, and/or kimchi.
My husband absolutely loved this beverage. He is a die hard beer drinker but really like the taste. I believe we will be buying more of this brand of beverage.
You can go online and find a retailer near you or order from the website and also keep up to date on social media.
Angry Orchard | Facebook | Twitter | YouTube | Instagram | Pinterest |