What woman doesn't take pride in their appearance? We all want to keep that young health look and feeling. Having a blemish on your face can ruin your whole day, and being acne free is what all woman hope for.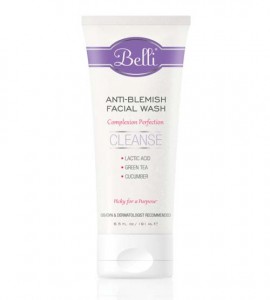 Belli Skincare has the best facial products. Belli Skincare is a formulated skin care line that focuses on, ingredients that provide expectant and, new mothers with a much-needed piece of mind. You don't have to worry about it being passed through breast milk.
Acne can take away that beautiful pregnancy glow. Breakouts are very common in pregnancy. Pregnancy can bring along a whole host of beauty concerns what with all those hormones flying around.
"Belli anti blemish facial wash is gentle and safe ", this cleanser safety rids all the oil and dead skin cells any other impurities you might have that lead to bacterial over growth and acne. Belli skin and body care products are made especially for pregnant women or those planning pregnancy. This is why Belli is "Picky for a purpose".
Doesn't every mom-to-be deserve the absolute best? All new moms and, moms to be deserve to have the best and making sure all the things they use are not going to harm their babies.
The best part about the product is that is free from all the harmful ingredients that can cause birth defects.
Free of salicylic acid, glycolic acid and benzoyl peroxide-common acne fighting ingredients that should be avoided during pregnancy
Contains lemon peel oil, a natural anti-bacterial and skin brightener
Green tea extract and cucumber offer an extra boost of antioxidants
Did you know that lemon peel oil serves as a natural anti bacterial agent and skin brightener that also produces a fresh citrus scent. When you are pregnant they ask you to watch everything you use so that it would not harm your child and be passed through your breast milk. Just the peace of mind knowing you can use and not harm your child means a lot. Allergy tested free of any artificial dyes, And great for pregnant and nursing moms to use without hurting the baby's,
Belli is easy to use and can be used as an everyday facial cleanser . Also it can be used as a 5 minutes  intensive facial mask. What a great way to promote healthy and clean-looking skin.