I'm sure you have all noticed as I have that when you buy in bulk, you actually pay less.  For example, if you buy a 20-ounce bottle of soda you are paying almost $2 for it, but if you buy a 2-liter bottle you can pay as little as $1.  It is nuts.  Now maybe that wasn't the best example, but it holds true.  It is crazy how they actually charge more for smaller packages.  Are we paying for packaging?
This is why I like to shop at Sam's Club   I can find anything I need there from food to clothes to televisions to computers, even tires.  I buy all my cat food there because I can get a huge 25-pound bag and it is better doing that than buying the same food other places at a smaller bag and it works out cheaper than if I bought 5 of the other bags that I had been buying.
They also have delicious rotisserie chicken for when I do not feel like cooking, and if I want something a bit different they use that chicken to make things like chicken salad and enchiladas so I don't have to do it myself! Plus, it is enough to feed a family of 4 so you cannot get a better deal.  When I was buying diapers, that was also my saving grace because I could get enough diapers for a month instead of a week and did not have to make so many trips and actually saved some money doing so.
I also love their online re-ordering so if I cannot get to the store I can just have the products that I regularly use shipped quickly and easily to my house.   The Sam's Savings
The Sam's Savings $45 membership is the lowest among warehouse store membership fees, and with all the money I save I am still ahead of the game even with the fee. They even have coupons available for even more savings on their products so it is a win-win situation all around.
With this coupon, you can get a $20 gift card when you sign up for membership, making it an even better value.  Sam's Club is rolling out programs and tools to increase the convenience of shopping at their stores like self-checkout, online ordering/shipping to store for pickup, and the Sam's Club app.
Everyone loves to save money, and this is the easiest way I have found that I end up with a few extra dollars in my pocket every month.  They offer easy online re-ordering, so you can have products you use regularly shipped, quickly and easily, to your house.
The Sweepstakes will begin at 12:01:00 a.m. (ET) on May 30, 2017 and end at 11:59:59 p.m. (ET) on June 2, 2017 (the "Sweepstakes Period"). U.S. residents may enter by heading to the Sam's Club page on Savings.com and entering an email address on the form at the top of the page. Submit your entry by clicking on the "ENTER" button. You may withdraw your consent to receive emails about special savings and offers from Savings.com at any time by clicking on the "Unsubscribe" link in any promotional email you receive from us. By submitting your online entry in the Sweepstakes, you agree to be bound by Sponsor's Terms of Service and Privacy Policy, which are hereby incorporated by reference and are posted onhttp://www.savings.com/info/us/terms/ and http://www.savings.com/info/us/privacy/ respectively.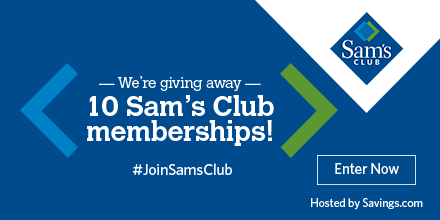 Only One (1) entry during the Sweepstakes Period may be registered from the same person. All entries must be received no later than 11:59:59 p.m. (ET) on June 2, 2017. In the event of a dispute in connection with the identity of the individual who submitted an entry, the entry will be deemed to have been submitted by the authorized account holder of the email account identified on the entry form, provided that such person satisfies all other Sweepstakes eligibility requirements. The authorized account holder is deemed to be the natural person who is assigned to an email address by an Internet access provider, service provider, or other online organization that is responsible for assigning email addresses for the domain associated with the submitted email address. Multiple entries submitted by the same person will be disqualified. Any questions regarding the number of entries submitted or the identity of the individual who submitted an entry shall be determined by Sponsor in its sole discretion whose decisions shall be final and binding, and Sponsor reserves the right to disqualify any entries by persons who submit false or misleading entry information or who Sponsor determines to be tampering with or abusing any aspect of the Sweepstakes. There is a limit of One (1) entry per person during the Sweepstakes Period.