When it comes to fun, we have a family game night this is when we are doing things as a family, We try to have it to where all the kids are having fun. With so many games out today we are always looking for the best games where we can all play. Here are some of our favorites
Help Kenny G stay in the groove with the power of jazz! In this cooperative game, players work together to make sure Kenny stays smooth and saxy through a hectic day. During each round, players will play sound cards to help Kenny overcome uncool events, detangle his luscious locks, and avoid rush hour traffic without missing a brassy beat. No jazz playing in the elevator? Scat with your friends and a "Biddle Scoodily Bop" can get Kenny back in the groove and keeping it smooth and saxy.
Trapper Keeper Game
Do you rule the school? Find out when you play the Trapper Keeper Game! Players zoom back in time to the 80's and 90's and strategically stash cards in their Trapper Keeper folders. Collect Homework, Quizzes, Signatures, Report Cards, Notes from Classmates, and Field Trip Slips to see who can score the most points. You can also collect doodles to increase your score. The player with the most points at the end of the school day will be crowned the Coolest Kid in School!
The Unicorn Bowling Set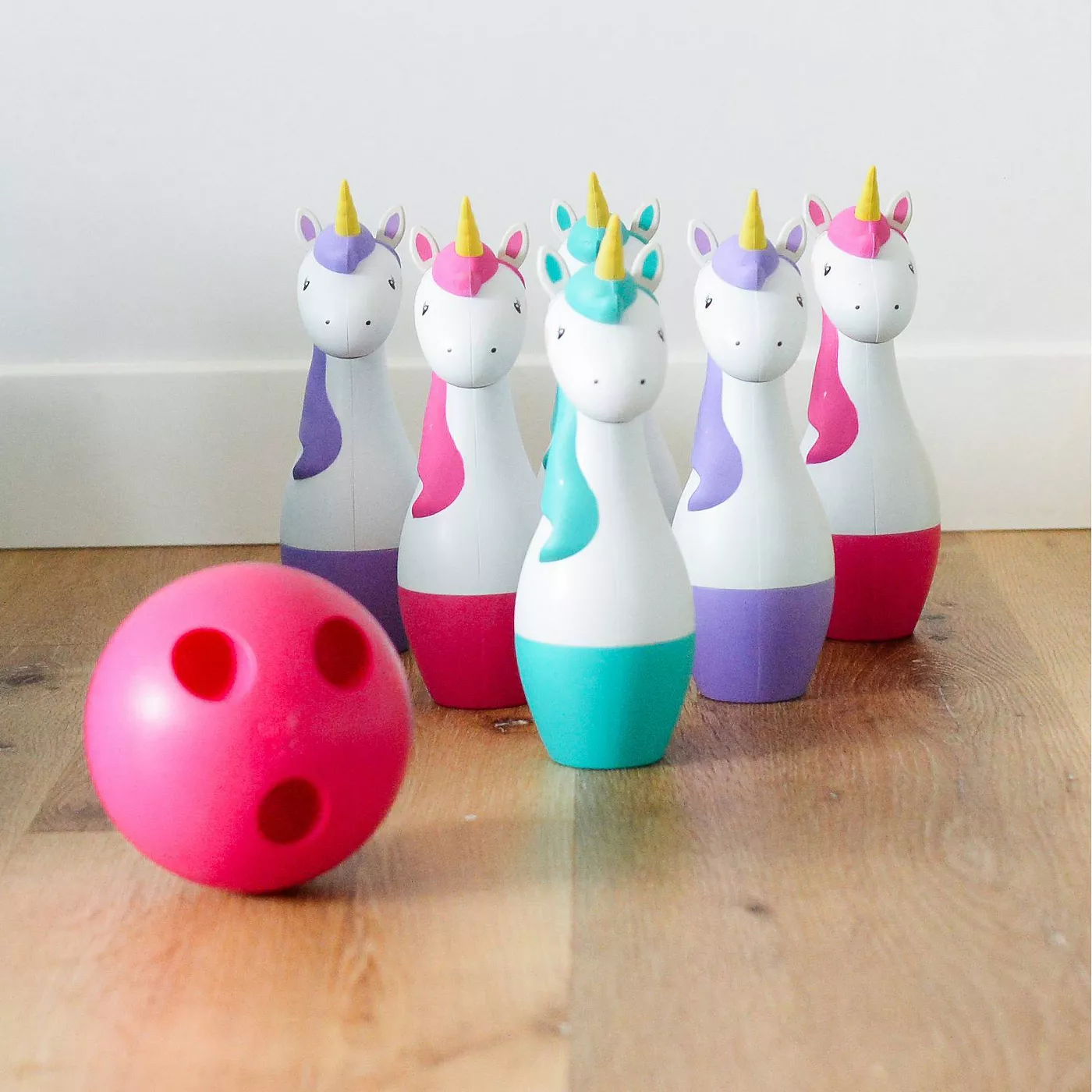 7pc set includes 6 unicorn pins and 1 bowling ball
Bowling pins and ball is weighted for extra stability
Great for indoor and outdoor play
Helps build fine motor skills, strength, hand-eye coordination, agility, judgment & concentration
Specifications
Make bowling more magical with unicorns! Set up the bowling pins and let's get bowling.
Get and give play! For every item purchased, Antsy Pants helps national nonprofit KaBOOM! build playgrounds for kids living in poverty across America.
Antsy Pants Unicorn Hoppity Hop
Hop to it! This unicorn hoppity hop is made of bouncy soft material. Just grab the ears tight before sitting and jumping and away you go! Easy to inflate and deflate for on the go and storage.
BeYouTology Luxe Cosmetic Bar
​Now you can personalize  your own beauty looks and create makeup your way! Design your own personalized makeup for lips, face, and eyes. Using the color mixing cards (or experimenting on your own) choose 3-4 pigment pearls to create a color. Spin the top of the carousel and drop each colored pearl into the mixing bowl into the desired medium (for face or lips). Then crush the pearls and form them into a gloss for lips or shadow for face or eye. With six colors to work with, you can create 60+ makeup shades—the looks you create will be up to you. You might even want to create special shades of makeup for your friends! Young makeup artists will love all the beauty elements included in this collection: Luxe Cosmetic Bar, 72 pigment pearls, lip gloss tube, 6 lip gloss containers, compact case, 6 eye shadow wells, dropper bottle, makeup applicator, highlighter brush, crushing tool, mixing bowl, spoon, spatula, and 3 stylist color mixing cards. This is truly where "makeup" meets "artist!"
​Girls will love creating their own makeup with the Luxe Cosmetic Bar!
​Experiment and develop personalized shades of face, lip, and eye makeup.
​Crush the color pearls of your choice to make totally unique shades. Create all kinds of personalized makeup for yourself and for friends!
​Set comes with lots of exciting beauty tools including compact case, lip gloss containers, makeup applicator, eye shadow wells, stylist mixing cards, and more!
​A great gift for girls age 8 and up.
Everything you need to make game night so much more fun