My family loves to spend Sunday afternoons together watching football.  It is like a weekly tradition during football season.  It is a great way to unwind, have some fun, and enjoy some great food and snacks.  Every game day is like another holiday with friends popping over, getting food ready, and sharing the thrill of the game.  If it is one of our teams, we deck out in the team's jersey and it is even more fun when two teams we like are playing against each other for some good-natured ribbing.  We spend it as a family, and for that time we unplug from devices and really just enjoy each other's company.
Having game day once a week can get quite expensive.  That is why I always get my game day necessities at Sam's Club.  If you do not have a Sam's Club membership, now is a great time to become a member with Sam's Club membership gift card offer ($20 gift card with $45 membership purchase).  Sam's Club always has all my gameday essentials for a great price and being that this happens once a week during football season, I love the savings.
Some of the "staples" for our Game Day fun include Tyson wings.  Seriously, what is a football game without wings?  Sometimes if I want things to be a little less messy I will get the bites instead of the wings, but more often than not I just go with the wings because I love nothing more than wings with Blue Cheese dressing.
I also always need snacks that can stay out pretty much for the duration of the game so in addition to the usual chips, I love to have a bowl full of candy that people can just take a handful and snack on.  My go-to there are Skittles and M&M's.  Easy and delicious.  Whether they want the chocolate or the sugar, I have it covered with these and they do not go stale like potato chips do once they are opened.
Sometimes there is a big game for us on Monday or Thursday nights, and I usually try not to make a huge deal out of those games with my family and friends unless one of our favorite teams are playing because of school and work the next day, but in those instances where I just have to watch those games I love to have 5-Hour Energy on hand.  Some of those games get done pretty late and I hate to be dragging the next morning, so my little secret is to grab one of these to get me through the day.  Also great for nights that I can't seem to sleep and have to function the next day!
Here is another little hint for you to help you save even more and get more information on Sam's Club: Check your Valpak envelopes you get in the mail.
You can also enter the #SamsBigGame giveaway hosted by Savings.com in which they are giving away 20 $45 Sam's Club membership gift cards.
Lastly, on Tuesday, January 16th, at 6 PM there is going to be a #SamsBigGame Twitter party with $500 in prizes being given away!!
Everyone loves spending Sunday with their family, and for us football season is especially important for us.  Thankfully with Sam's Club, I can get delicious snacks and food at great savings.  PS also comes in very handy for snacks we bring to school and work and after-school munchies! Make sure to check out, your Valpak envelopes for additional information about the memberships and more savings for members.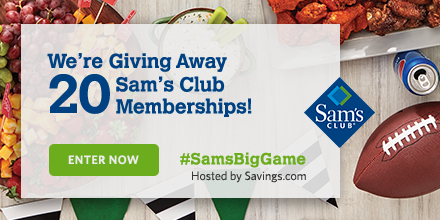 Tuesday, January 9th at 12:00 AM ET to Tuesday, January 16th at 11:59 PM ET.
Twenty (20) winners will receive a $45 Sam's Club gift card.
Users enter the giveaway by heading to Sam's Club page on Savings.com and submitting their email address on the form at the top of the page.
The winners will be chosen through a lottery drawing and notified on Wednesday (1/17) via the email address they used to enter.
See complete Official Rules for entry instructions, full prize descriptions, restrictions and other important details.