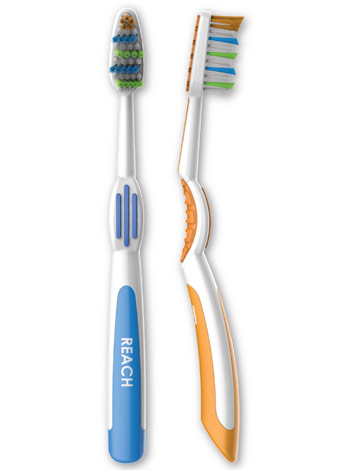 We go through so many tooth brushes here. When it comes to germs I wont have them anywhere near my face or mouth. So changing our tooth brushes every three months is a must. And then we have to go through finding the right one again. And we all know how frustrating that can be.
The REACH Complete Care Complete Care Triple Angle Pro toothbrushes are in a league of their own. Not only did my teeth feel cleaner than ever, I literally felt like I was brushing my teeth with a pillow. The bristles are that cushy and soft. I honestly can't imagine using any other type of toothbrush now.
The first thing I noticed about these fabulous toothbrushes were the super soft thumb rests! The next thing was the angle!! These toothbrushes are angled like non-other and makes reaching my two remaining wisdom teeth easier! The brushes offer a 13 degree angle, so that is a lot! The Floss offers floss like bristles that break down plaque hiding deep within the teeth! This makes this the perfect brush for me since I do not remember to floss every single day."The Pro has bi level bristles that maximize teeth whitening!"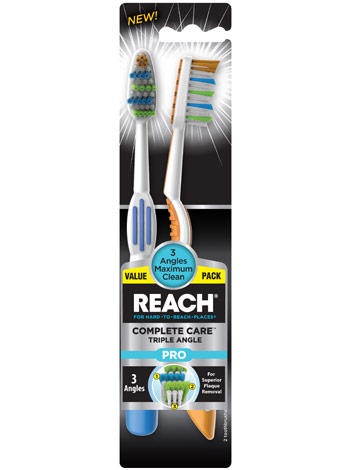 The toothbrush has a fascinating tradition of innovation: from the ancient civilizations in China and Egypt who cleaned their teeth with sticks, to the first nylon bristle toothbrush which went on sale in 1938 and the earliest electric brushes of the 1950's.
REACH has a proven history of innovation and 'performance with a purpose that helped progress the humble toothbrush with scientific insight. REACH was the first toothbrush with an angled neck to make it easier to clean hard to reach places in your mouth and has always supported its effectiveness claims with hard data from clinical trials.
The California based company, Dr Fresh LLC acquired REACH in 2012 and in the greatest traditions of the brand, placed meaningful innovation at the heart of the REACH toothbrush once again. In fact, Dr Fresh owns more patents and trademarks than any other oral care company. As a leader in the oral care segment and one of the fastest growing oral care companies in the U.S., Dr. Fresh operate 3 offices globally, and has distribution in over 35 countries worldwide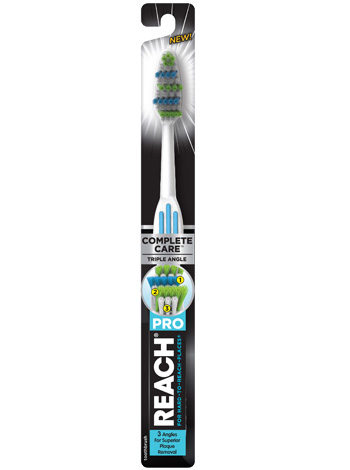 Love these tooth brushes and so does the family.
Shop, follow on Face book and Twitter.